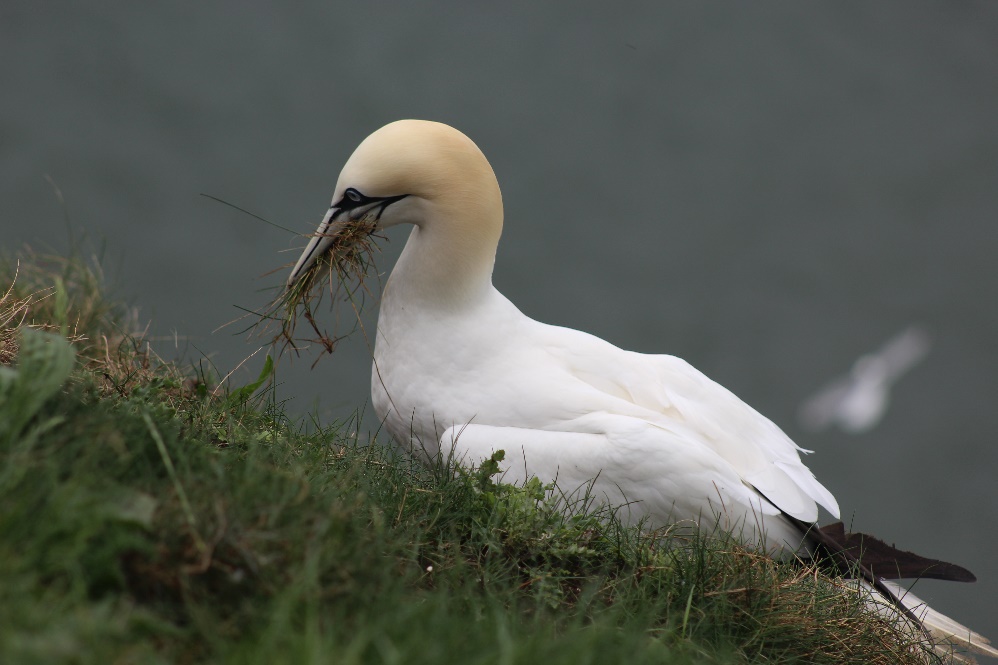 We all met up at Slack's coach garage at the appointed time and it was nice to see a very near full coachload! The weather wasn't the best with rain and wind forecast but clearing later in the day.
The journey was smooth and steady with a brief stop at a service station and took approximately 2 ½ hrs. The first bird we saw even before we got off the bus was a surprise, A cockatiel! Obviously someone's pet that had escaped and found its way there.
The weather as it now seems usual for our trips defied all the odds and remained mainly dry and the wind was actually warm and not at all unpleasant. We left the visitors centre and made our way en mass around the cliff tops. We had a very good 5 hrs to study the cliffs including a stop for lunch and saw 30 different species in total. We don't expect many at such a site so that was actually quite an impressive number. Stuart was on fine form as ever pointing out different birds and providing specialist knowledge for example correcting myself when I spotted a couple of pigeons tucked in a crack and told me they were actually rock doves and explained that they mated with ordinary pigeons and there were now very few true rock doves left.
The journey home was a mirror image of the journey out and ended at Slack's garage in unfortunately a downpour!
All in all another great trip out so I am sure all those who attended will join me in thanking Dorothy for her time and effort in making the day a memorable one.
Bird list: Fulmar, Gannet, Cormorant, Grey Partridge, Pheasant, Herring Gull, G B B Gull, Kittiwake, Guillemot, Razorbill, Puffin, Rock Dove, Stock Dove, Woodpigeon, Skylark, Sand Martin, Swallow, House Martin, Meadow Pipit, Dunnock, Blackbird, Sedge Warbler, Whitethroat, Jackdaw, Carrion Crow, Tree Sparrow, Goldfinch, Linnet, Reed Bunting, Corn Bunting, Common Crane, Cockateil.