The Bakewell bird study group magic held as usual with the weather with no rain during the trip. The lighting was not best for identification but persistence paid off and we identified a total of 44 species.
This outing was a car share trip and although attendance wasn't high it turned out to be a very pleasurable morning with plenty of activity in the trees and bushes on route. It was heard said "If only they would stand still for a minute I might be able identify them!"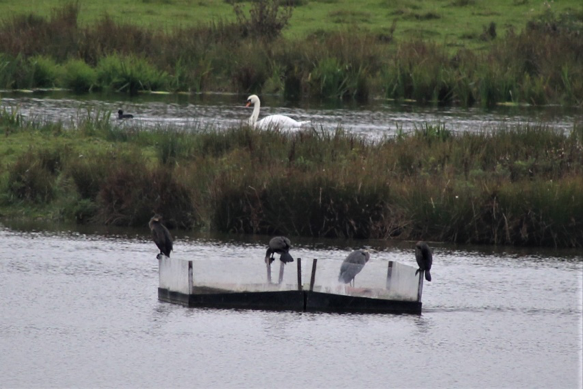 The varied habitats in the Carr vale reserve make for a wide variety of birds as it is a mixture of open water, marsh, wet and dry grassland, scrub and trees. It was generally felt however that there should have been more waders down on the lake at this time of the year so a little mystery there.
All in all a great trip. Many thanks to Dorothy for organising the trip and to Stuart for passing on his special skills at identification.
The bird list is as follows:-
Great Crested Grebe, Cormorant, Grey Heron, Mute Swan, Greylag, Canada Goose, Wigeon, Gadwall, Mallard, Shoveler, Tufted Duck, Buzzard, Pheasant, Moorhen, Coot, Lapwing, B.H. Gull, L.B.B.Gull, Herring Gull, Stock Dove, Woodpigeon, Collared Dove, Swallow, Meadow Pipit, Pied Wagtail, Wren, Dunnock, Robin, Blackbird, Chiffchaff, Goldcrest, Long-tailed Tit, Blue Tit, Great Tit, Jay, Magpie, Jackdaw, Carrion crow, Starling, Chaffinch, Greenfinch, Goldfinch, Linnet, Bullfinch. Total 44 Species